Buying a used car is extremely exciting. It's cool to go with a car with a little history to it, but you also should be sure to review the facts so that you end up with a high-quality vehicle.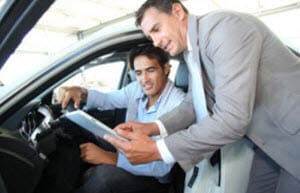 So, what can drivers in Wayne, Paterson, Clifton, and Montclair do to make sure they're getting a great used car? Ask questions! And because you might not be certain where to start, our team at Wayne Ford has put together some questions to ask when buying a used car.
How many owners have had the car?
It's important to know how many times the vehicle has been bought and sold. The fewer owners the car has had, the easier it is to understand its history. In addition, the more owners your used car has had, the more likely it is to have been in an accident at some point.
While this isn't always the case, it's still a good idea to learn more about the previous owners of the vehicle.
Note: A detective-level investigation into the individual isn't necessary. You can simply ask the dealer or private seller what condition the vehicle was in when they bought it. That'll give you all the information you need.
Can I see the maintenance history?
Asking for records on such services as oil changes or part replacements is vital to verify that the vehicle has been kept up with regular maintenance. This is a huge component of reviewing the quality of a used car that many people often forget.
If the previous owner of your potential vehicle didn't take care of it properly, not only will you need to take the automobile in for maintenance immediately, but it's possible that there could be damage done to the engine or other vital car parts.
So, what does that mean for you? Well, those repairs may end up costing you tons in the long run. And without routine appointments, the overall health of the vehicle could be compromised, which ultimately results in a shorter lifespan.
Is there a CARFAX® report?
A CARFAX Vehicle History Report™ will give you an official read of how many owners the car has had, and how many accidents it's been in, if any. This catalog of information about the used vehicle in question can come in handy once you're ready to have the car analyzed.
Note: While your mechanic is reviewing the vehicle, check the CARFAX Vehicle History Report™ for the parts of the automobile that were affected during any collisions. Ask the technicians to focus closely on those areas for signs of misalignment or improper installation. Ideally, you shouldn't be able to distinguish any difference in the car's panels.
Can I take it to my service shop?
Simply asking this question will tell you a lot about the vehicle. If the seller is hesitant about letting you take the car to your service center for an inspection, that raises a red flag.
But if you choose a used car dealership, you'll find that the associates are more than willing to help you get each part of your vehicle reviewed by a trained professional. Once they've determined that the used or certified pre-owned automobile is good to go, you can finance it and ride it into the sunset.
How many miles are on it?
Getting an odometer reading of the vehicle will show you if it has a reasonable number of miles on it for the year. Depending on the vehicle, they usually accumulate about 12,000 to 15,000 miles per year. An excessive amount of mileage takes a toll on the engine.
On the other hand, if the used car is in quality shape, this can indicate that the vehicle is a well-seasoned road veteran and may be worth considering.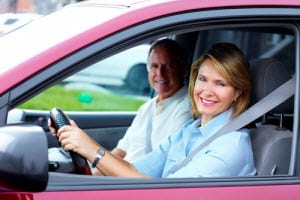 Note: If the recorded mileage on the CARFAX Vehicle History Report™ is higher than what's on the car's odometer, ask the seller about it. You always want to have an accurate reading of the miles your used vehicle has tallied.
Has it ever been recalled?
And if it has, was the work taken care of? The car's manufacturer would have a record of this. On top of that, you can also check on this information by viewing the CARFAX Vehicle History Report™ or by searching the Vehicle Identification Number (VIN) on the National Highway Traffic Safety Administration's website.
Why are you selling it?
This question is more for buying from a private seller, and where you definitely want to obtain some maintenance records. If there's an underlying issue with the vehicle that you discover during the inspection, that's definitely something you'll want to discuss with the seller.
Can I test drive it?
If the car is for sale, it should be test drive ready. This is where you'll utilize all your senses (except for taste…). Do a thorough walk around the used car and pay close attention to any parts with inconsistent paint or noticeable differences. That could be a sign of a previous accident.
While driving down the road, listen for any strange noises, shaking, or vibration, and take note of any weird smells. All of these signals point to underlying problems.
But most of all, never purchase a car without driving it first!
Is it a certified pre-owned vehicle?
If so, that means it's been inspected and comes with a warranty. Plus, these cars typically come with several benefits. Each manufacturer has different specifications for what's included in their certified pre-owned program. Details on that can be accessed easily online or through our dealership.
Start Your Search Today!

Buying a used car can be fun, and definitely financially beneficial, as long as you're getting the right one. And when you need a refresher, read over this guide of questions to ask when buying a used car. That way, you'll be sure to get a used vehicle of the best quality possible.
If you're in the Wayne, Paterson, Clifton, or Montclair area, you can contact us at Wayne Ford with any questions that might come up when considering buying a used car. Or, feel free to stop in and check out our used car inventory, backed by CARFAX Vehicle History Reports™ and the info you need, anytime!