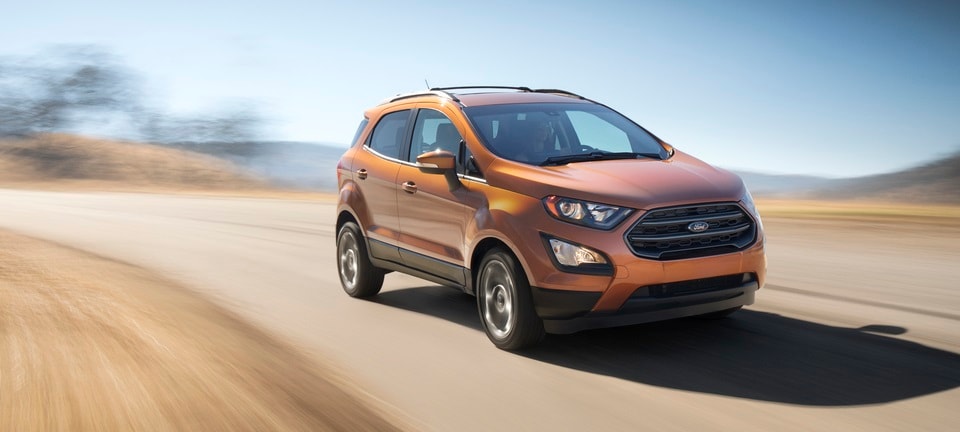 Here's a subcompact SUV from Ford that's fun to drive around, the 2020 Ford Eco Sport. It's got its own powered sunroof, its easy eight-inch touchscreen entertainment with climate control and cargo space that expands with its adjustable flooring and foldable rear seats. It's the car you can take with you around Wayne or single or longer road trips.
You'll find the car pretty to look at in your driveway, versatile for connectivity and an abundance of natural light while driving around Paterson.
What's New to the Ford EcoSport?
When it comes to exterior trimmings, color options and the engine, the 2020 Ford EcoSport keeps its characteristic features the same as the 2019 model. There are a number of changes for this newest Ford EcoSport though, including the expansion of storage space with its new Cargo Management System, a standard feature for the SE trim level and above.
A bigger change is made in the 2020 Ford EcoSport touchscreen, from the previous 6.5-inch length to an 8-inch Liquid Crystal Display for a bigger visual control panel.
The 2020 Ford EcoSport also comes with an expanded capability on its Driver Assist Technology incorporating the FordPass Connect as a standard feature for all trim lines.
2020 EcoSport Features
Performance
You'll have a casual driving experience with the 2020 Ford EcoSport, powered by its standard 123 horsepower turbocharged three-cylinder engine. Or you may opt for the 166 horsepower four-cylinder. Either one features a six-speed automatic transmission with a pull weight of up to 2,000 pounds. Power goes to its front two wheels or all four wheels if you choose the optional four-wheel drive.
Safety
When it comes to making sure you don't get into an accident, the 2020 Ford EcoSport relies on its slew of safety technologies that fall under its Driver Assist Technology. All models have the rearview camera for backing up on assist but it also complements it with its Blind Spot Information System or BLIS while sounding out the alarm if any object passes by as you're backing up with Cross-Traffic Alert.
The vehicle also has Advancetrac with RSC or Roll Stability Control, an integrated system that keeps your wheels gripping the road surface when it senses slipping. It's an especially useful technology to keep you from collisions and accidents when you're turning too sharply, driving on loose gravel, hydroplaning on wet roads or slipping on road ice.
Design
The 2020 Ford EcoSport bears the Ford characteristic with its known front grille, angled headlamps and sporty wheel and hubs. It's elevated design gives you an overview of your surroundings around Little Falls while giving the vehicle more space under the chassis.
Getting into the car, you'll find leather upholstery seating, a clean straightforward console with the eight-inch LCD display allowing you wireless internet connectivity and use of your smartphone as you drive around Fairfield.
Under the console, door-release handles, front door map pockets and front footwells, ambient lighting glows by your choice of color from red, blue to yellow-green. 
Trim Levels
The 2020 Ford EcoSport comes in four trim levels: the S, the SE, the Titanium and the SES. The differences among these trim levels are in their aesthetics and performance with certain available options such as engine selection and the intelligent four-wheel drive.
Test Drive a Ford EcoSport Today
When you're ready, we encourage you to make the short drive from Montville, NJ to test drive a new EcoSport. We can give you more information and tell you our easy financing options. Stop by today to learn more!