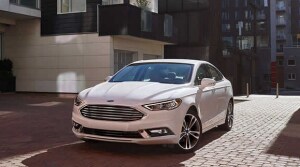 The Ford Fusion has been making a name for itself as one of the most reliable sedans in today's market. However, some drivers in the Wayne, Paterson, and Montclair area prefer the Honda Accord. While both vehicles are popular and offer something different to their drivers, which one do you see yourself in?
To help you figure that out, we're going to be comparing the 2017 Ford Fusion and the 2017 Honda Accord in this article. We focus our attention on passenger space and comfort, featured amenities, and vehicle safety. By reading this car comparison, the decision for your next car will be easier to make.
2017 Ford Fusion vs 2017 Honda Accord Passenger Space & Comfort
The Ford Fusion and the Honda Accord are equipped to carry you and four of your passengers on cloth seating appointments. The Ford Fusion takes the lead in front passenger space by offering 39.2 inches of head room and 44.3 inches of leg room. The Honda Accord, although spacious, limits its space for front passengers with 38.8 inches of head room and 41.6 inches of leg room. The Ford Fusion even offers more room for cargo with its 16 cubic foot trunk, providing a little more room than the 15.4 cubic foot trunk featured with the Honda Accord.
Featured Amenities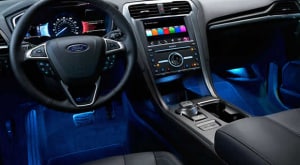 The Ford Fusion and the Honda Accord each deliver their audio entertainment through their respective four-speaker sound systems. Each sedan comes standard with AM/FM radio, and a CD player that's capable of playing MP3 and WMA audio files. You can even use the Bluetooth® system, installed for hands-free phone communication, to stream audio entertainment from your smartphone. The Ford Fusion features the SYNC® system, which enables enhanced voice recognition, allowing you to access your phone contacts or your preferred media by using your voice while keeping your hands planted firmly on the wheel.
Vehicle Safety
In terms of keeping your vehicle on track during slippery conditions, the Ford Fusion features AdvanceTrac® and the Honda Accord comes with Vehicle Stability Assist. These systems will activate during instances of wheel slip to provide brake pressure to the affected wheels as well as reducing engine speed in an effort to keep the vehicle on its projected path.
When it comes to keeping you and your passengers safe, each vehicle features an advanced airbag system. These airbags will measure the severity of impact and adjust the inflation pressure accordingly. Both vehicles are fitted with front, side, and side curtain airbags. The Ford Fusion offers additional collision protection with knee airbags for both the driver and front passenger to help reduce short or long term leg disability.
Learn More by Scheduling a Test Drive
By reading this car comparison, you learned in great detail how the 2017 Ford Fusion differs from the 2017 Honda Accord. You saw that the Ford Fusion offers you more in each of our categories. Learn even more about what the Ford Fusion offers and what it can do by taking it out for a spin.
Schedule your test drive with us at Wayne Ford-the dealership that proudly serves drivers in the Wayne, Paterson, and Montclair area.