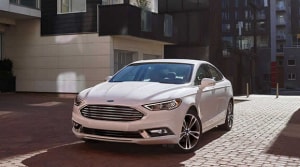 The 2017 Ford Fusion and 2017 Chevrolet Malibu are stylish, family-friendly midsize sedans offering spacious interiors, innovative technology features, and athletic performances to boot. Each car is heralded for their sleek, well-rounded designs, and Wayne Ford compares their key features side by side in the following post to help you decide which one is best for your driving routine.
Before taking a 2017 Ford Fusion or 2017 Chevy Malibu for a spin around Montclair, Clifton, or Paterson, read Wayne Ford's vehicle comparison below. 
Comparing Chevy Malibu and Ford Fusion Performances
With their potent powertrains and efficient fuel economies, the 2017 Ford Fusion and 2017 Chevy Malibu are reliable daily drivers well-suited for commuting, running errands, or driving cross-country.
These front-wheel drive cruisers come with savvy 4-cylinder engines in their standard configurations, with the Chevrolet Malibu delivering 160 horsepower through a 1.5L. The 2017 Ford Fusion's 2.5L Duratec 4-cylinder pulls ahead of the Malibu with 175 horsepower, offering sharp yet smooth acceleration most drivers find invigorating.
If fuel economy is more of a concern, the 2017 Ford Fusion and 2017 Chevy Malibu are available with hybrid powertrains, proving that efficiency and power aren't mutually exclusive. Fuel economy estimates for the Malibu and Fusion hybrids are comparable, though the Fusion delivers six more net horsepower for a total of 188 horsepower.
The 2017 Ford Fusion also offers a plug-in hybrid, the Fusion Energi, that gets its power from a lithium-ion battery and gasoline engine. Boasting an ability to run solely on electricity, the 2017 Fusion Energi delivers up to an EPA-estimated 104 city/91 highway/97 combined MPGe to help you cut down on fuel consumption. The Chevy Malibu doesn't offer a plug-in hybrid for the 2017 model year, so eco-conscious shoppers may find themselves gravitating toward the 2017 Ford Fusion instead. 
2017 Ford Fusion vs 2017 Chevy Malibu Technology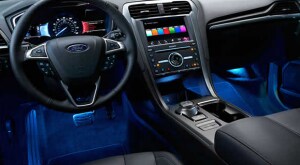 Staying connected is a top priority for many drivers, especially with technology integrated into almost every facet of our lives. Luckily, the 2017 Ford Fusion and 2017 Chevy Malibu offer several advanced infotainment and connectivity features that keep you in touch with the digital world whenever you're on the go.
One of the 2017 Ford Fusion's most innovative features is the SYNC® 3 infotainment system with smart hardware and software, an 8-inch LCD touchscreen, voice command technology, and more. You can look up directions, stream music, make and receive hands-free calls, and more with SYNC® 3, all while your smartphone is locked away in your pocket where it belongs.
The 2017 Chevy Malibu offers a similar system, Chevy MyLink, whose touchscreen interface provides access to your favorite media features. 
Test Drive a 2017 Ford Fusion at Wayne Ford
The Chevy Malibu and Ford Fusion are two of the most hotly contested cars in the midsize sedan segment each year. However, we think the Ford Fusion comes out on top for the 2017 model year with its powerful engines, ultra-efficient plug-in hybrid, and advanced SYNC® 3 infotainment system.
Wayne Ford is a dealership serving Montclair, Paterson, and Clifton with an expansive inventory of 2017 Ford Fusions. When you're ready to get behind the wheel of a 2017 Ford Fusion, schedule a test drive at Wayne Ford.