The Ford Fusion is a dependable vehicle for drivers in the Wayne, Paterson, Clifton, and Montclair areas. However, to make sure if offers that same reliability for many years and miles, you'll need to get it routinely checked out.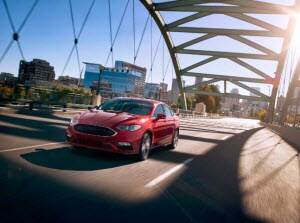 While it's easy to bring the car to our service center at Wayne Ford, it's important to know what kind of work the Fusion will need at any given time-and that's why we created this 2018 Ford Fusion maintenance schedule.
We'll go over the extensive work that our team will do to give you some peace of mind. Read all about it below, and don't hesitate to contact us if you have any questions.

Every 10,000 Miles
When the 2018 Ford Fusion reaches 10,000 miles, the following vehicle maintenance will need to be completed...
Rotate and inspect tires; check wheel end play and turning noise.

Change engine oil and replace oil filter when indicated on vehicle message center, or every 12 months (whichever comes first).

Inspect cooling system and hoses.

Inspect complete exhaust system and heat shields.

Inspect brake pads/shoes/rotors/drums, brake lines and hoses, and parking brake system.

Inspect and lubricate all non-sealed steering linkage, ball joints, suspension joints, half- and drive-shafts, and u-joints.

Perform a multi-point inspection.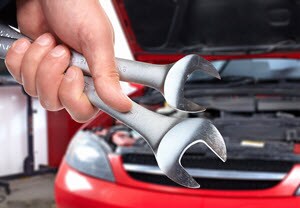 What's included in the multi-point inspection? You'll need to check all fluids and top them off, if necessary. These include transmission fluid, power steering fluid, and brake fluid. You'll also need to check all lights and sounds to see if they're working properly.
Furthermore, the battery's operation will need to be tested, and tire pressure will need to be checked and filled with air, if necessary.
Every 20,000 & 30,000 Miles
After you've reached the 20,000-mile mark, you'll follow the same procedure as the 10,000-mile check. One item that'll be added is to replace the cabin air filter, if equipped.
After 30,000 miles, instead of replacing the cabin air filter, the engine air filter will be replaced.
Every 100,000 & 150,000 Miles
The services will pretty much continue the same way until you reach the 100,000-mile mark. At this point, you'll follow the same format as the 20,000-mile check. However, you'll be adding the following car maintenance items:
Replace platinum spark plugs.

Inspect accessory drive belt or belts.

Change orange coolant.
If your 2018 Ford Fusion continues to run well after 150,000 miles, then you've done a great job at keeping up with the routine vehicle maintenance. You'll follow the same schedule as what was done after 100,000 miles. The only differences are to change the automatic transmission fluid, and to replace the accessory drive belt or belts if that wasn't done at the 100,000-mile check.
Schedule Service for the 2018 Ford Fusion Today
If your vehicle needs service, you can schedule an appointment at Wayne Ford. Our certified technicians will use only genuine parts, and will work quickly and efficiently to get you back on the streets of Wayne, Paterson, Clifton, and Montclair as soon as possible.
Don't wait. Schedule service today!