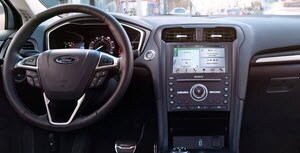 The Ford Fusion is one of the most exciting, reliable vehicles that you could hope to drive around Wayne, Paterson, and Clifton. However, because even dependable vehicles sometimes experience problems, the Fusion has included a variety of warning and indicator lights in its instrument cluster. These dashboard symbols will let you know when there is a malfunction in one of your Fusion's major systems or if any of your vehicle's features are active.
If you're not familiar with your Fusion's lights, it can be a good idea to learn what a few of them mean so you can remain calm when a warning light activates. Read a dashboard symbols guide for the 2017 Ford Fusion and discover which lights mean you need service from an experienced professional.
Dashboard Symbols: Indicator Lights
Auto Start-Stop: When your engine is shutting down, a light that looks like the letter "A" surrounded by a looped arrow will be active.
Brake Lights: If you see a light that looks like an exclamation point in a circle next to the letter 'P' inside a circle with the word 'BRAKE' underneath, your ignition is engaged and your parking brake is engaged. If you're parking brake isn't engaged, this light can either mean there is a braking malfunction or your fluid level is low.
Cruise Control: When you activate your cruise control, it will be indicated by a light that looks like a speedometer with an arrow pointing towards it.
Door Ajar: If your engine is on and one of your doors is open, you will see a light that looks like a car with doors open.
Dashboard Symbols: Warning Lights
Charging System: When the charging system in your Fusion malfunctions, you will see a light that looks like a car battery.
Low Gas: A light that looks like a fuel pump will activate when the gas level in your vehicle is too low.
Engine Fluid: There are multiple lights used to show a problem with your engine's fluid. A light that looks like an oil lamp means there is a problem with your engine oil; a light that looks like a thermometer above two wavy lines is used when your coolant temperature is too high. If you see either of these lights, stop your car.
Front Airbag: A light that appears as a side view of a car passenger with a deployed airbag in front means that there is a malfunction with your air bag system.
Service Engine: If your engine experiences a problem, you will see a light that looks like an engine.
Powertrain/AWD: When a malfunction occurs in your Fusion's powertrain or all-wheel-drive system, it will be indicated with a light that looks like a double-headed monkey wrench.
Service for Your 2017 Ford Fusion
Having a warning light activate when you're driving in Paterson, Clifton, and Wayne can be a very stressful situation. Get peace of mind and the dedicated service for your 2017 Ford Fusion needs by visiting the service and parts department at Wayne Ford. A member of our service staff can identify the problem with your vehicle and get you back on the road.
The team at Wayne Ford is committed to helping you in whatever way we can, including providing continuing service for your Ford Fusion.