The Ford Focus is one of the most popular sedans on the market, which is due in no small part to its numerous safety features and five-star crash test safety rating. Ford is committed to offering a safe ride, and the Focus is equipped with state-of-the-art tech to ensure you get to your destination in one piece.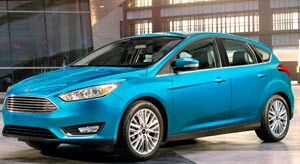 Residents of Wayne, Patterson, Clifton, and Montclair seeking a safe sedan need look no further than Wayne Ford and the impressive 2017 Ford Focus. Learn about the exciting safety features the Focus has to offer and decide if is the right car for you.
7 Standard Airbags
No matter where you're sitting in the 2017 Ford Focus, you are covered. Ford has ensured that every passenger will be protected by some of the most efficient airbags available, whether it be up front airbags or curtain airbags on the sides.
The front and side airbags are dual-stage, meaning that there are two explosion forces available. For low-speed crashes, only the first explosion fires, while higher speeds will feature both explosions, pumping more air into the airbag. The Focus also features a knee airbag for the driver.
Built With Boron
Boron is a chemical element and is used to make high-quality steel. Boron steel is extremely tough and much stronger than average high-strength steel. To put it in perspective, average high-strength steel would have yielded four times before boron steel yields once.
The 2017 Ford Focus has been equipped with boron steel door intrusion beams. This means those beams are four times stronger than traditional high-strength steel, making you four times safer from side-impact collisions.
Driving Assistance
Human error is something we all have to conquer, but with the driving assistance technologies present in the 2017 Ford Focus, like Driveline Traction Control, it becomes a little easier. The Focus is equipped with a rearview camera and sensors mounted around the vehicle. These act as your eyes and ears, giving you knowledge of surrounding objects, including objects in your blind spot.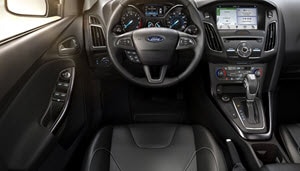 The Titanium trim features additional safety technologies, like lane-keeping systems and active park assist. With the help of these amazing features, you are far less likely to get into an accident.
Discover the 2017 Ford Focus for Yourself
Wayne Ford invites all Wayne, Patterson, Clifton and Montclair residents to explore the safety features and other incredible highlights of the 2017 Ford Focus. Our expert team is eager to explain everything you need to know about the Ford Focus and its many benefits.
Visit us at Wayne Ford or call (888) 349-6857 to schedule your test drive of the 2017 Ford Focus or any other vehicle in our expansive inventory. Our team is prepared to show you everything a Ford can offer you. Schedule your test drive today!