Trucks can do just about anything. Whether you need them to pull a large object along the road, carry an ATV, or help you while you're on the job, pickups provide the power to see you through the day. With the new technology in cars today, it only follows that trucks can now pair brawn with brain.
A perfect example of the intelligent warriors hitting the market is the 2017 Ford F-150. With the tech-savvy functionalities of a luxury vehicle, this truck now acts as your coworker, entertainer, and your tour guide. Plus, you'll find a host of smart and exclusive Ford technologies that enhance the capabilities of this pickup.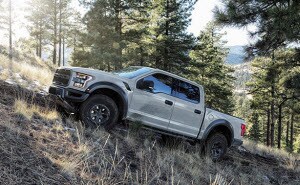 So, let's explore every last technology update contained in this vehicle by checking out this 2017 Ford F-150 technology review created by the team at Wayne Ford. With this guide, drivers of Wayne, Paterson, Clifton, and Montclair will see just how much can be done with the simple touch of a button.
Learn more about the Ford F-150 with our full vehicle review.
Interior Intuition and Intelligence
While muscle and functionality is important when considering a truck, having a comfortable and accessible cabin is equally as crucial. How would you get through your day if your drive home was spent wrestling with a clunky entertainment system?
With the 2017 Ford F-150, you'll never have to worry about that. Inside this vehicle, you'll find the popular SYNC® 3 infotainment suite filled with standard and optional Ford technologies to help you wind down after the work day.
Operating from an eight-inch LCD touchscreen, this display connects you to navigation with pinch-to-zoom capability that gives you a closer view of your destination. That way, you can clearly see exactly where you're headed.
Plus, with the use of convenient voice recognition, you can easily access Apple CarPlay™ and Android Auto™, both of which connect you to the music and podcasts stored on your smartphone.
2017 Ford F-150: Capability for Any Job
When you buy a truck, you expect it to work as hard as you do. The 2017 Ford F-150 provides a collection of easy-to-use gadgets that will make simple work of anything that you need your truck to do.
The optional Pro Trailer Backup Assist™ helps you in navigating your cargo over cluttered construction sites or rough terrains with the turn of your wrist. All you have to do is shift the dashboard knob left or right and your trailer will follow suit.
On top of that, a 360-degree camera with split-view display is optional and offers a view of your vehicle from every angle. That way, you can see where your pickup is moving and avoid running over any of your buddy's tools during your next off-roading adventure.
Cutting-Edge Safety Technology
While you're dominating off-road trails, safety is at the top of your mind. However, with the 2017 Ford F-150, a collection of optional driver assistances features will keep you secure-no matter what the road conditions are.
BLIS® (Blind Spot Information System) with trailer coverage utilizes state-of-the-art Ford technology and helps you monitor those tough-to-see spots surrounding your vehicle.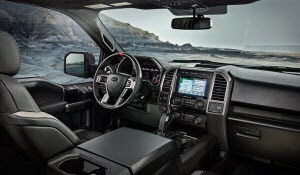 When another object is detected in your blind spot, the system will issue visual alerts on your side mirrors. With this tool, you can feel confident that you and your cargo will stay protected along the road.
In addition, the optional Lane Keeping System tracks lane markers and warns you when it senses that your pickup is moving out of place. That way, you won't accidentally drive into another lane on the highway.
Discover Your 2017 Ford F-150 Today!
Now that you've gotten a taste of Ford technology contained within this pickup, it's time to get a spot in the driver's seat. Drivers of Wayne, Paterson, Clifton, and Montclair can do just that by heading to our showroom at Wayne Ford.
Don't wait for this impressive pickup to fly out of our dealership. Contact us to schedule your test drive today!