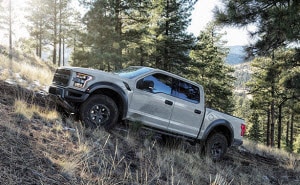 The 2017 Ford F-150 and 2017 Toyota Tundra are full-size pickup trucks that turn up power, performance, and capabilities several notches. Each truck reigns supreme in the full-size pickup class, so Wayne Ford decided to compare the capabilities and features available with the 2017 Ford F-150 and 2017 Toyota Tundra.
Read about the 2017 Ford F-150 and Toyota Tundra in the following post then schedule a test drive in Wayne, Montclair, Clifton, or Paterson.
Full-Size Capabilities 
If you're looking for a pickup truck that isn't afraid to roll up its sleeves, the 2017 Ford F-150 and 2017 Toyota Tundra could fit the bill. Each is a leader in their segment with impressive payload and towing capabilities, garnering critical acclaim for powerful performances and indisputable strength.
Work Harder, Tow Smarter 
With its available 5.7L V8 engine, the 2017 Toyota Tundra's 10,500-pound maximum towing capacity is nothing to sneeze at. However, it doesn't quite measure up to the Ford F-150, which tows up to 12,200 pounds with the right equipment. 
The 2017 Toyota Tundra gets a respectable 2,080-pound payload rating, but it doesn't compare to the 2017 Ford F-150's available 3,270-pound rating, which is best in class.
Beefed-Up Performances
With their muscular designs and potent powertrains, the 2017 Toyota Tundra and 2017 Ford F-150 are engineered to help you get the job done. V8 engines and all-wheel drive are available with each truck, which provide the strength many drivers rely on to get through the workday.
Ford F-150: All-New Powertrain 
The 2017 F-150's famed 3.5L EcoBoost® V6 engine comes with dual direct and port injection as well as auto stop-start technologies and is turbocharged. Now in its second generation, the F-150's EcoBoost® delivers 375 horsepower and 470 lb-ft of torque and is mated to an all-new, class-exclusive 10-speed automatic transmission. 
2017 Toyota Tundra Powertrains
With its standard 4.6L V8 engine, the 2017 Toyota Tundra makes up to 310 horsepower and 327 lb-ft of torque, though drivers have the option of upgrading to a 5.7L V8 engine. A six-speed automatic delivers smooth shifts and comes standard with each.
Test Drive the 2017 Ford F-150
Offering two V8 engines and beefy capabilities, it's easy to see why drivers gravitate toward the 2017 Toyota Tundra. However, the 2017 Ford F-150 offers stronger towing and payload and a brand-new powertrain designed for potency and efficiency, making it a stronger option for pickup truck shoppers throughout Montclair, Clifton, Paterson, and Wayne.
Wayne Ford is a local dealership committed to helping truck drivers find Ford F-Series pickup trucks that best match their workloads. If you think the 2017 Ford F-150 has the strength you need, schedule a test drive at Wayne Ford today.