The Ford F-150 is a powerful and dependable truck for handling all your jobs around Wayne, Paterson, Clifton, and Montclair. And to ensure it works hard for as long as possible, it'll need regular truck maintenance.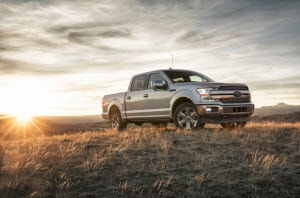 To help you determine what kind of work the vehicle needs at any given time, our team at Wayne Ford created this 2018 Ford F-150 maintenance schedule. Read through it below, and contact us if you have any questions.

Every Month
The Ford F-150 will need the following items checked each month...
Engine oil level.

Function of all interior and exterior lights.

Tires (including spare) for wear and proper pressure.

Windshield washer fluid level.
Every Six Months
After every six months, the following will need to be looked at...
Battery connections. Clean, if necessary.

Body and door drain holes for obstructions. Clean, if necessary.

Cooling system fluid level and coolant strength.

Door weatherstrips for wear. Lubricate, if necessary.

Hinges, latches and outside locks for proper operation. Lubricate, if necessary.

Parking brake for proper operation.

Safety belts and seat latches for wear and function.

Safety warning lamps (brake, ABS, airbag, and safety belt) for operation.

Washer spray and wiper operation. Clean or replace blades as necessary.
Multi-Point Inspection
In order to keep your Ford F-150 running well, it's recommended to have a thorough multi-point inspection completed at every scheduled maintenance interval. During this time, the following will get checked out...
Accessory drive belt or belts.

Hazard warning system operation.

Battery performance.

Horn operation.

Radiator, cooler, heater, and air conditioning hoses.

Engine air filter.

Suspension components for leaks or damage.

Exhaust system.

Exterior lamps operation.

Steering and linkage.

Fluid levels (brake, coolant recovery reservoir, automatic transmission, and window washer); fill, if necessary.

Oil and fluid leaks.

Windshield for cracks, chips, or pits.

Half-shaft dust boots.

Washer spray and wiper operation.
Every 10,000 Miles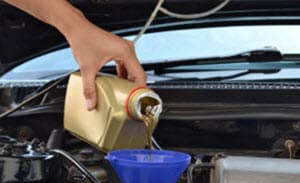 An oil change is usually done after every 10,000 miles, assuming you drive under normal conditions (it becomes more frequent with more severe driving). At this point, the above-mentioned checks will be performed, along with the following truck maintenance...
Change engine oil and filter.

Rotate tires and measure tread depth.

Inspect the brake pads, shoes, rotors, drums, brake linings, hoses and parking brake.

Inspect the engine cooling system strength and hoses.

Inspect front axle and U-joints. Lubricate if equipped with grease fittings (4-wheel

drive vehicles).
Every 20,000 & 30,000 Miles
At the 20,000-mile check, you'll get all the work mentioned above performed, along with replacing the cabin air filter.
After 30,000 miles, instead of changing the cabin air filter, you'll have the engine air filter replaced.
Every 100,000 & 150,000 Miles
The vehicle maintenance will pretty much continue the same way until you get to 100,000 miles. If your F-150 continues to run well at this point, then you've done a great job at keeping up with the recommended maintenance. The only new work will be to replace the spark plugs and inspect the accessory drive belt or belts.
At the 150,000-mile mark, you'll follow the same steps as 30,000 miles, plus add the following...
Change automatic transmission fluid and filter.

Change front axle fluid (4-wheel drive vehicles).

Change rear axle fluid.

Change transfer case fluid (4-wheel drive vehicles).

Replace accessory drive belt or belts.
Schedule Service for the 2018 Ford F-150 Today
If you live near Wayne, Paterson, Clifton, or Montclair and your 2018 Ford F-150 needs service, then schedule an appointment at Wayne Ford today!