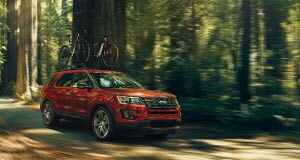 The Ford Explorer has always been a favorite among SUV drivers in the Wayne, Paterson, and Clifton areas due to its spacious cabin and remarkable performance. However, some drivers claim that the Jeep Grand Cherokee is giving the Ford Explorer a run for its money. Out of these two similar SUVs, which is the best pick for you?
If you don't know how to answer that question just yet, don't worry; we're here to help. In this article, we're comparing the 2017 Ford Explorer and the 2017 Jeep Grand Cherokee based on interior space, entertainment and technology, and safety features. After reading our vehicle comparison, you'll know which SUV you'd prefer to take out on the road. 
Interior Space
The Ford Explorer opens with 151.5 cubic feet of space for its passengers, while the Jeep Grand Cherokee only features 105.4 cubic feet of space. Not only does the Ford Explorer offer more space as a whole, but the room for passengers is undeniable. The Ford Explorer provides 41.4 inches of headroom and 42.9 inches of legroom for its front passengers. The Jeep Grand Cherokee is rather limited with its 39.9 inches of headroom and 40.3 inches of legroom offered to its front passengers. 
Entertainment and Technology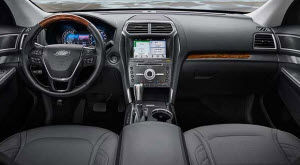 Both vehicles deliver their audio entertainment through 6-speaker sound systems. The Ford Explorer features a radio and a CD player with MP3 playback capabilities, as well as a USB port and an auxiliary input. The Jeep Cherokee offers inputs for external devices, but including a CD player is an upgrade. Both vehicles also feature Bluetooth® technology to allow for hands-free phone communication.
Safety Features
The Ford Explorer and the Jeep Grand Cherokee are both equipped with anti-lock brakes that feature traction and stability control systems. The Ford Explorer features AdvanceTrac® and the Jeep Grand Cherokee is equipped with Electronic Stability Control. These systems help keep the respective vehicles on track during slippery conditions by braking the affected wheels while sending torque to the wheels with the most amount of traction.
Each vehicle is also equipped with a rear view camera that projects the point of view from your license plate. This system adds a little ease and precision to backing in and out of tight spaces. The Ford Explorer also features the MyKey system, which lets you program a key for your teenage drivers. This system will limit their maximum speed while muting the audio system until all passengers are safely buckled in. The MyKey feature is a great resource for teaching your teenager safe driving practices. 
Take Your Test Drive
In our comparison of the 2017 Ford Explorer and the 2017 Jeep Grand Cherokee, we explored the similarities and differences between these two comparable SUVs. You learned quickly that the Ford Explorer takes the lead in every one of our categories. Learn even more about the 2017 Ford Explorer by taking it out on the road.
Schedule your test drive with us at Wayne Ford, the dealership that proudly serves drivers in the Wayne, Paterson, and Clifton areas.