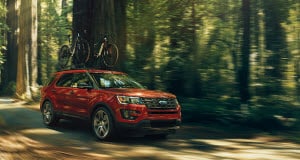 The 2017 Ford Explorer is fortified with several advanced safety features that maintain a controlled performance, prevent collisions, and protect passengers when critical situations arise.
Before test driving a 2017 Ford Explorer in Wayne, Clifton, Paterson, or Montclair, read Wayne Ford's 2017 Ford Explorer safety features review to learn about its crash prevention and road monitoring technologies. You can also read our 2017 Ford Explorer vehicle review.
Lane-Keeping System
Accidentally drifting from your lane could lead to a serious collision. Luckily, the 2017 Ford Explorer offers a Lane-Keeping System that operates both day and night to help you stay on track.
What It Is: The Lane-Keeping System comes with a camera mounted behind the windshield to monitor the vehicle's position in relation to road markings. 
How it Works: If you move too close to a road median or lane boundary, the Explorer's steering wheel vibrates to warn you before you unintentionally depart from the lane. Lane-keeping aid actively applies steering torque if you do not respond in time, ensuring you stay on track throughout your journey in an Explorer. 
Adaptive Cruise Control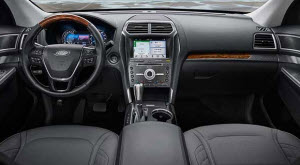 The 2017 Ford Explorer takes conventional cruise control one step further, helping you maintain a safe following distance when the vehicle ahead of it speeds up or slows down. 
What it Is: Adaptive Cruise Control comes with sensors that detect the flow of traffic and the Explorer's distance from the vehicle ahead of it. 
How It Works: Based on the traffic information its sensors collect, Adaptive Cruise Control adjusts the 2017 Ford Explorer's speed. The vehicle slows down or speeds up according to traffic patterns, helping you maintain a safe following distance. 
Forward Collision Warning

North Jersey is notorious for its erratic traffic patterns, and drivers may get into fender benders while braving its highways, byways, and city streets. Luckily, the 2017 Ford Explorer is available with a forward collision warning and braking system designed to stop accidents in their track. 
 What it is: Available forward collision warning includes automatic brake support that alerts you when a collision is imminent. 
How it works: If a collision is possible, the Explorer's forward collision warning system alerts you with a heads-up display on the wind shield. The brakes pre-charge if you don't react in time while brake-assist sensitivity increases to enhance responsiveness. 
Find Out More About the 2017 Ford Explorer
Designed with passenger protection in mind, the 2017 Ford Explorer's available safety features like forward collision warning, adaptive cruise control, and lane-keeping assist help you drive with confidence and control.
Wayne, Montclair, Paterson, and Clifton drivers can test out the 2017 Ford Explorer's safety features at Wayne Ford, where we have dozens of SUVs equipped with advanced, innovative crash prevention, and road monitoring technologies.
Schedule to test drive a 2017 Ford Explorer at Wayne Ford to decide whether it's the right SUV for you.