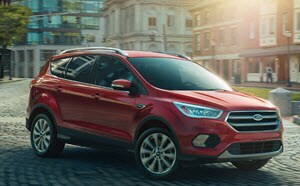 Compact SUVs are becoming a very popular choice for drivers with and without families. These midsize vehicles offer the cargo space, performance, and safety features of larger SUVs, but typically with better EPA-estimated fuel efficiency and an easier driving experience. Ultimately, these cars are a great option for any type of lifestyle. Among the top competitors are the 2017 Ford Escape and the 2017 Mazda CX-5. But how do they compare?
Wayne Ford, which serves the areas of Paterson, Clifton and Montclair, NJ, has created a comprehensive comparison between these two vehicles to help make your search a little easier. Read more about each car's safety features, technology, and interior design below.
Comparing Safety Features
Safety is of the utmost importance when driving a car. That's why the 2017 Ford Escape offers top-of-the-line technology to keep drivers and passengers safe from every angle. The Escape has a 5-Star Overall Safety Rating from the National Highway Traffic Safety Administration (NHTSA), it and earned one of the top composite safety scores for its class, making it a great vehicle for young drivers or families.
Among the most notable safety features are its seven airbags, Lane Keeping Assist, drowsy driver monitoring, and pre-collision braking technology, which prepares the brakes for complete responsiveness when an imminent collision is detected. It also has all of the standard features of last year's model, which includes a rearview camera, parking sensors, and Blind Spot Information System with Cross Traffic Alert.
The 2017 Mazda CX-5 has not yet been tested by the NHTSA. It offers similar features to the Escape, such as Brake Assist, automatic high beams, and lane drifting prevention. However, not all of these are standard for the CX-5. Some trims also come with a heads-up traffic sign display on the bottom of the windshield.
Interior Design & Technology
The 2017 Ford Escape offers plenty of legroom and headroom for up to five adults. The 2017 Mazda CX-5 is slightly more compact, so it's recommended that only two adults sit in the back, or three small children. When it comes to room for passengers and cargo, the Escape is a leader in its class. In fact, it has up to 68 cubic feet of space with the back seats down, compared to the CX-5's 59.6 cubic feet of space.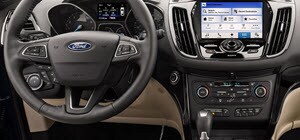 Both cars provide quiet driving on the highway and are known for their luxurious-feeling interiors. The 2017 Ford Escape comes with sophisticated technology such as the easy-to-use SYNC® infotainment system. Passengers can connect to the internet through SYNC® Connect and stay entertained through the duration of a trip. The 2017 Mazda CX-5 doesn't have all of the connectivity options that the Escape does. For example, Android Auto™ and Apple CarPlay™ aren't available.
Test Drive the 2017 Ford Escape
If you're looking for a midsize SUV that delivers all of the latest technology and safety features, as well as unbeatable comfort and cargo space, the 2017 Ford Escape may be for you. The 2017 Mazda CX-5 simply can't offer the same level of quality.
If you're in the Paterson, Clifton, or Montclair area, please come by Wayne Ford to test drive the 2017 Ford Escape today. You'll be glad you did! Contact us today.