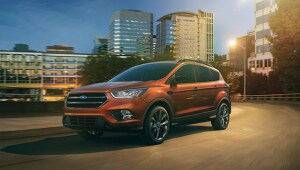 Choosing the right midsize SUV to help you tackle the roads throughout the Wayne, Paterson, and Montclair area is no easy feat. While you've been looking for the right vehicle, you've no doubt come across the 2017 Ford Escape and the 2017 Honda CR-V. These two popular models have always been in competition with each other due to their similar styles, features, and abilities. However, out of these two impressive midsize SUVs, which one would you prefer to get you around?
You don't have to answer that question right away because we'll help you find out which of these vehicles is the best pick for you. In our vehicle comparison of the 2017 Ford Escape and the 2017 Honda CR-V, we'll be taking a look at vehicle style, interior amenities, and safety features. By reading our review, you'll be able to make the best decision possible towards your automotive future.
2017 Ford Escape vs 2017 Honda CR-V Vehicle Style
When selecting the right SUV, it's important to take style into consideration. This is the first thing that people see when you pull up to your destination, and you want it to leave a lasting impression. The Ford Escape's body has a sleek front end that curves up into the clean rear end. It offers enough size to let you know it's an SUV, but it's small enough to show you that it's agile when navigating traffic.
The Honda CR-V was often criticized by drivers due to its body design. It has a suitable front end that worked its way towards a rear that slightly resembled a minivan rather than a midsize SUV. Honda has since redesigned the overall body for the 2017 Honda CR-V, but it still has room for improvement. The design has been described as "aggressive," which can be translated as boxy and rigid. As for a sleeker design, the Ford Escape holds the cards.
Interior Amenities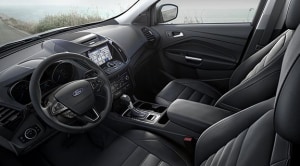 The Ford Escape delivers its audio enjoyment from the six-speaker sound system. The Honda CR-V comes with a four-speaker sound system at its base level. Each vehicle comes equipped with an AM/FM radio, and a CD player with MP3 playback capabilities. Both of these vehicles feature sophisticated infotainment systems, but the SYNC® system, featured in the Ford Escape, has enhanced voice recognition. You can easily select your audio entertainment by just using your voice. You can even use this system to select phonebook contacts to call through the Bluetooth® system while keeping your hands firmly on the steering wheel.
Safety Features
Both the Ford Escape and the Honda CR-V have traction and stability control systems in place. While working with the respective four-wheel anti-lock brakes, these systems will help keep the vehicle on track by providing necessary brake pressure during instances of wheel slip. Furthermore, the Ford Escape is equipped with Curve Control. This system will detect if you're going around a curve too fast and it will reduce the throttle to ensure that you make the curve without any possibility of wheel lift.
Schedule a Test Drive
In this article, we showed you the similarities and differences between the 2017 Ford Escape and the 2017 Honda CR-V. You read about the stylish exteriors, the interior amenities, and even the safety. By now, you've figured out that the Ford Escape offers you more.
Learn even more about the 2017 Ford Escape by scheduling a test drive with us at Wayne Ford-the dealership that proudly serves drivers in the Wayne, Paterson, and Montclair area.