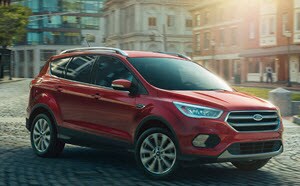 When looking for an SUV, you want the most up-to-date model on the market-and that means state-of-the-art technology. Wayne, Paterson, Clifton and Montclair area SUV shoppers will really dig the technology that the 2017 Ford Escape has to offer.
In this review, you'll find out how the technology in the 2017 Ford Escape makes it an SUV that's more comfortable, entertaining, and most importantly, safer for you and your family.
Let's get started with comfort and convenience technology in the Escape…
Technology in the Escape: Making Your Ride More Convenient
Technology in the 2017 Ford Escape is all about making your ride as comfortable and convenient as possible. With available 10-way power driver and passenger adjustable seats, this SUV is geared to maximize your comfort level. If heated seats are your thing (are they ever not?), that's an available option in the Escape, as well.
Getting where you need to go has never been easier in the Ford Escape. For wherever family vacations or seemingly simple soccer trips might take you, the SYNC®3 Navigation system is there to guide you along the way. You have the option of using either the touchscreen or voice commands to set your destination and get going.
Entertainment Technology in the 2017 Ford Escape
Who doesn't need a little entertainment on the road? The 2017 Ford Escape offers many standard and optional entertainment features, such as an available nine- or 10-speaker audio system, so that you can keep the kids occupied for longer rides.
Apple CarPlay™ and Android Auto™ included with SYNC®3 let you control your SUV's entertainment with your smartphone. With these features, your smartphone apps will show up on the touchscreen in your vehicle, making for an easier and more enjoyable drive experience.
Want to learn more about the 2017 Ford Escape? Get the full review by Wayne Ford here!
Staying Safe With Escape Technology
Technology isn't just for fun; some of the most amazing tech systems are the ones that keep us safe-and there's no better example than the technology in the 2017 Ford Escape. This SUV is designed with families in mind, with ample safety features that will keep you worry-free while on the road.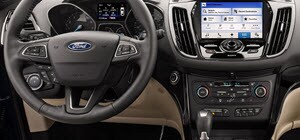 Kids fight and drivers make unexpected moves-it's the unavoidable reality of driving. Still, when things happen on the road, the Escape has your back with features such as forward collision alert and lane departure warning and intervention to keep you on the straight and narrow.
Learn More About the Technology in the 2017 Ford Escape
With the 2017 Ford Escape's available safety, entertainment, and comfort technology features, this SUV has everything you need for taking the kids to school, family road trips, and more.
Come check it out for yourself! Connect with our team at Wayne Ford to set up a test drive.
Contacting us is easy. Fill out our online form, call us at (888) 349-6857, or stop in our showroom. If you are in the Wayne, Paterson, Clifton or Montclair areas, we are located right on Route 46.