Information is key when something goes wrong with your vehicle in Paterson, Clifton, and Montclair. Even if you drive a supremely reliable vehicle like the Ford Escape, it's still possible to run into issues from time to time, which will be indicated by the dashboard symbols.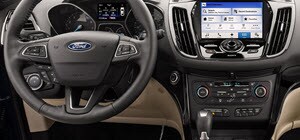 Having a warning light activate in your vehicle can be stressful if you're not sure what it means, making it important that you learn more about common dashboard symbols you may encounter with your Escape. Here is a dashboard symbols guide for the 2017 Ford Escape and advice for repairing your vehicle after one of these lights has activated.
Dashboard Symbols: Warning Lights
Anti-Lock Braking: The letters 'ABS' inside a circle means there is a malfunction in your anti-lock braking system that needs immediate attention.
Battery: If a light that looks like a battery activates while you're driving, it means there is a problem with your Escape's charging system.
Electric Park Brake: If you notice a light that looks like a lightning bolt-shaped arrow pointing downwards inside a circle, your electric park brake has malfunctioned.
Engine Coolant: When the coolant temperature in your vehicle is too high, you will see a light that looks like a thermometer in water. Shut down your Escape and allow the engine to cool.
Oil: A light that looks like an oil lamp indicates an issue with your engine oil. If this light comes on while driving, stop your Escape and check your oil level.
Fuel: If your vehicle runs low on gas, you will see a light that looks like a fuel pump.
Tire Pressure: An exclamation point inside of a flat tire means that your tire pressure is too low.
Powertrain: If you notice a light that looks like a double-headed wrench, there is a problem with either your all-wheel-drive or your powertrain.
Service Engine: When your engine needs service, a light that looks like a side view of an engine will light up on your dashboard.
Dashboard Symbols: Indicator Lights
Adaptive Cruise Control: A light that looks like an arrow pointing at a speedometer superimposed over a car is used for your adaptive cruise control. When the system is on, you will see a white light; a green light means it is engaged.
Blind Spot Monitor: A light that appears as two cars passing each underneath the word 'off' means your Blind Spot Monitor system is inactive.
Front Fog Lamps: If your Escape is equipped with front fog lamps, a light that looks like a headlight with wavy lines in front will activate when your fog lights are turned on.
Lane Keep: If you're Lane-keeping Aid is active, you will see a light that looks like a car inside two lines. 
Stability Control: If your Stability Control system is active, a light that resembles a car with tread marks behind it will be active.
Get Maintenance for the 2017 Ford Escape
If you notice any of these warning lights while driving in Clifton, Paterson, or Montclair, you need to make sure to bring your 2017 Ford Escape to the service and parts department at Wayne Ford. Our knowledgeable service professionals can check your vehicle and find the issue that caused your warning light to activate.
In addition to dedicated vehicle maintenance, Wayne Ford offers a wide selection of new and pre-owned vehicles, and we would be happy to help you find your next car.