Midsize SUVs are the perfect choice for families looking for the comfort, convenience, and cargo space of a larger vehicle. This type of car typically offers competitive performance capabilities compared to larger SUVs, but with a more compact design. Luckily, the market has many attractive midsize SUVs to choose from, including the 2017 Ford Edge and the 2017 Toyota RAV4.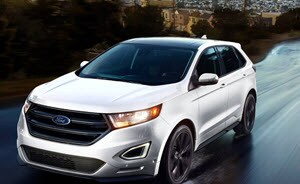 To help you make the right choice when the time comes, Wayne Ford of Wayne, NJ, has created a comparison of the above vehicles. This dealership is proud to serve the areas of Paterson, Clifton, and Montclair, and is prepared to answer any questions regarding your next compact SUV purchase.
Safety Features
Safety specifications are typically the most important aspect of a new family vehicle. The 2017 Ford Edge has a 5-Star Overall Safety Rating from the National Highway Traffic Safety Administration (NHTSA). Equipped with seven airbags, you can rest assured that every angle is protected in the event of a collision. Its more advanced safety features include such driver-assistance technology as a 180-degree front camera, Blind Spot Monitoring, a Forward Collision Warning system, Lane Keeping System, and Rear Cross-Traffic Alert. Safety and ease were clearly the top priority for the 2017 Ford Edge design.
The 2017 Toyota RAV4 also comes with a range of top-of-the-line safety features such as a Pre-Collision Alert system, Blind Spot Monitoring, and Lane Departure Warning. However, this vehicle only received four out of five stars on the NHTSA's frontal crash safety rating, compared to the Ford Edge's five out of five stars.
Interior Features
No matter what your plans are for your new vehicle, space and comfort are key. The 2017 Ford Edge boasts generous legroom and headspace for tall adults, and can seat up to five people. In terms of cargo space, the Edge has more room than most of its midsize rivals. Even when the seats are in use, you can enjoy 39.2 cubic feet of cargo space, which is slightly more than what the 2017 Toyota RAV4 has to offer.
Additionally, the 2017 Ford Edge comes with a full list of standard technology features to keep everyone in your car satisfied during road trips. You can also sync your smartphone to the Edge's infotainment system using Apple CarPlay™ or Android Auto™ and listen to music, podcasts, and audiobooks at your convenience. This type of smartphone integration isn't available in the 2017 Toyota RAV4; however, this vehicle has features like a touchscreen and 6-speaker sound system in its upper trims.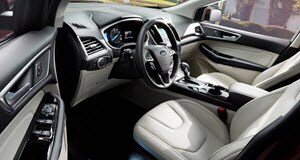 For parents with teen drivers, the 2017 Ford Edge comes with a MyKey® system, which allows you to limit the car's top speed, keep radio volume low, and enforce extra safety reminders whenever the key is in use. Unfortunately, the 2017 Toyota RAV4 doesn't have the same MyKey® option, and has more limited technological upgrades overall. For example, upgrades such as mounted screens in rear headrests and DVD players are available for the Ford Edge, but not the Toyota RAV4.
Test Drive the 2017 Ford Edge
The 2017 Ford Edge offers all of the interior comforts, safety features, and technology you need to enjoy driving on both short and long trips. Although the 2017 Toyota RAV4 is a quality vehicle, it doesn't have quite the same level of safety and sophistication as the Edge.
Come visit Wayne Ford today if you're in the Paterson, Clifton, or Montclair area so you can experience a test drive with the 2017 Ford Edge! Contact us today.