Every 2017 Ford Edge comes with dashboard symbols in its instrument cluster that communicate important information about the vehicle. It can be stressful when a light appears on the Edge's instrument panel, especially if you're not sure what it means, so our team at Wayne Ford put together a guide outlining some of its most common dashboard symbols.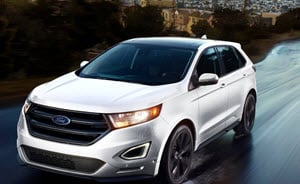 If any of these symbols appear while driving around Paterson, Clifton, or Montclair, use our guide to figure out what they mean.
Edge Warning Symbols
The Ford Edge will probably need maintenance anytime the following lights appear in its instrument panel. Some are more serious than others, and this guide goes over the symbols that require your immediate attention.
Powertrain Fault Light - A dashboard symbol shaped like a wrench will appear in its instrument panel if an issue with the Edge's powertrain or AWD system is detected. Contact a certified Ford mechanic immediately.
Service Engine Soon Light - If there's an issue with the Ford Edge's emission control system, an engine symbol will appear in the instrument panel. It could also indicate a misfiring engine if the symbol blinks. Contact roadside assistance immediately.
Engine Coolant Temperature Light - A red thermometer with two squiggly lines beneath it will appear in your instrument panel if the Edge's engine coolant is overheating. When it appears, pull over to a safe location and turn the engine off. We recommend calling roadside assistance.
Engine Oil Light - Pull over and turn the Edge off anytime the oil light comes on. Let the engine cool down. Afterwards, call a Ford-certified mechanic for assistance.
Battery Light - A battery symbol will appear in the Edge's instrument panel when its charging system, electrical components, or battery is experiencing issues. Turn off all electrical components and take your Edge to the nearest Ford-certified mechanic.
Ford Edge Dashboard Symbols
Not every dashboard symbol indicates a mechanical problem. Many appear to alert you if certain nonessential features are being used. Some of these symbols include: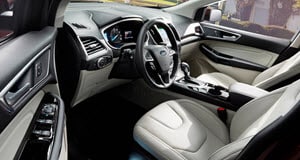 Heads Up Display - A red horizontal line with vertical dashes intersecting comes on Edge models equipped with collision warning or adaptive cruise control. When these systems are in use, this light will appear on the Edge's windshield.
Adaptive Cruise Control Light - When equipped with adaptive cruise control, the Edge comes with a corresponding dashboard symbol. It is white when it's on and green when engaged.
Blind Spot Monitor Light - A blind spot symbol comes with the Ford Edge when equipped with blind spot monitoring. If the BLIS system is activated, it will appear in the instrument cluster.
Clear Your Dashboard at Wayne Ford
If you're concerned about a warning or indicator light in your Edge's instrument panel, Wayne Ford is here to help drivers across Montclair, Clifton, Paterson, and beyond. Our service team is here to help with everything from oil changes to multi-point inspections, and we encourage you to swing by the next time dashboard symbols appear.
Schedule a service appointment at Wayne Ford now.