Paterson, NJ, is a city that offers a little bit of everything. With a bustling metropolitan area, and great spots overlooking the Passaic River and the Great Falls National Historic Park, it's not too hard to call Paterson home. However, getting around and seeing the sights can be a tad difficult if you don't have a reliable vehicle to get you around. But don't worry, you don't have to search the entire state to find the right car because Wayne Ford is less than eight miles away. 
Car Browsing Made Easy
As a Ford dealer near Paterson, we try to be as convenient as possible to our drivers. Even though we're neighbors with Paterson, you don't have to make the short trip just to start looking for your next car. All you need is a computer because our entire Ford inventory can be viewed online. You'll be able to see models like the popular and heavy-duty Ford F-150, the reliable Ford Taurus, or the family-friendly Ford Edge. Those are just a few of the many models and body styles we currently have in our inventory.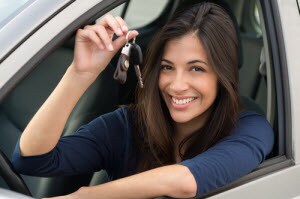 If you're looking to save some time while searching for your next car, we strongly encourage you to make use of our search filters. You can cut down on your search time by browsing by year, model, body style, color, and price. That way you can find a vehicle that has the components that are most important to you. 
Great Help and Assistance
Finding a Ford dealer near Paterson is one thing, but finding one with remarkable customer service is a whole different ball game. When you're actively seeking a Ford dealer, you want one that'll provide the help and assistance you need to get the most out of your vehicle purchase. Our sales team consists of customer service superstars. They provide a comfortable and fun atmosphere for our guests. They'll gladly show you around and provide relevant information about the vehicles you're most interested in.
One of the best ways to figure out if a car is for you is by taking it out for a test drive. You'll get a great feel for how the vehicle handles on the open road with you behind the wheel. As you drive back into our dealership, you'll have a good sense about the car. You'll know if it's the one for you. 
Expert Service and Maintenance
Whenever your vehicle needs the professional touch, you can always look toward your Ford dealer near Paterson. At Wayne Ford, our service center is stocked with the latest tools and technology. Our team of certified technicians uses these tools to diagnose the problem with your vehicle, and will find the best possible solution to ensure it gets the best care. They'll help you keep your vehicle performing at its best for many years and miles.
At Wayne Ford, we're happy to help drivers like you from Paterson, NJ.