The vehicle battery is considered the starting system for the entire engine. Without one, the car shall be lacking the charge of energy that starts the engine. This is exactly why, at Wayne Ford, we recognize it's definitely vital that you simply keep your battery in perfect condition and that you get it tested often. Neglecting to get at least one inspection from your local service center could possibly get you stranded outside your favorite dining establishment.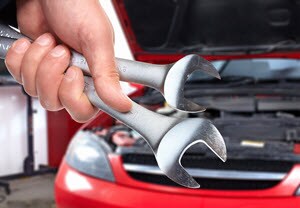 Battery Repair Services
Although the most important battery service you will probably experience would be the battery replacement, there are many other services your automobile may possibly benefit from through your time as the owner. Here are several that are commonly suggested by your vehicle brand:     
Battery Recycling
Battery Inspection
Battery Power Output Test
In addition to these types of services that are tailored for your automobile battery, usually there are some other solutions you might need if the automobile battery just isn't what the problem is. Case in point, there might be a concern with the power wiring, the alternator or the starter engine. In case there is a hassle with one of these other devices, our very skilled repair technicians can fix the issue in no time.
Battery Maintenance Service You Can Depend On
At Wayne Ford, we've been serious about making certain whenever yo u leave, your vehicle is moving in the absolute best condition. Our team are taught to establish and service every single concern your car or truck has. Additionally our polite technicians are able to answer every inquiries you could have regarding your vehicle service and routine maintenance obligations when you enter.

Read More About Battery Repair
Our team are devoted to bringing you the essential information to help keep your car working correctly.  look at helpful articles here to acquire solutions to all your most pressing concerns. Want to find out when it comes time to have a battery repair? Check out this page. Need to know how often that service should be completed? We have a remedy for that too.
Perhaps there is an issue we have not taken care of? Feel free to reach out to our amazing service personnel or use our online tool to schedule a battery repair appointment.