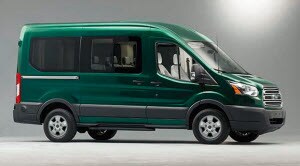 If you're looking for a new transport van to get people around in the Wayne, Paterson, and Clifton area, there are a lot of options to consider. The 2017 Ford Transit Van has become increasingly popular when it comes to transporting passengers, but how do you know it can help you and your duties?
We'll help you answer that question by giving you a closer look at this spacious transit van. We'll take a peek at the power, performance, and options. We'll also give you a glimpse of the spacious cabin. By reading our review of the 2017 Ford Transit Van, you'll be able to decide, with absolute certainty, if this is indeed the vehicle for you. 
2017 Ford Transit Van Power, Performance, & Options
Looking at engine performance is extremely important when finding your next transport van. You want to be sure that the vehicle will have enough power to get your passengers to their destination. The base level Ford Transit Van comes standard with a 3.7-Liter V6 engine that's paired with a 6-speed SelectShift® automatic transmission, which allows the van to reach 275 horsepower with 260 lb-ft of torque. This van also features AdvanceTrac®. This system keeps the vehicle on track during slippery conditions by applying brake pressure to the wheels that lose traction.
Although the standard engine in this van is powerful, you can always upgrade to boost your performance. The optional 3.5-Liter EcoBoost® V6 engine can get the Ford Transit Van to reach 310 horsepower with 400 lb-ft of torque. The 3.2-Liter I-5 Power Stroke® Turbo Diesel gets the van to reach 185 horsepower with 350 lb-ft of torque. 
Interior Space & Comfort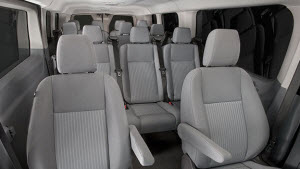 The 2017 Ford Transit Van offers a variety of different options for size when it comes to accommodating your passengers. The van, with the regular wheelbase option, can carry eight passengers with three rows of seating. You can also add an extra row to accommodate two additional passengers.
If you choose the long wheelbase option, you can easily fit more passengers. The four-row option can carry 12 passengers. However, if you add a fifth row, you can carry 15 passengers to their destination.  You can even choose a low, medium, or high roof to make more room for all of your passengers. 
Optional Entertainment Features
This transport van comes standard with an AM/FM radio and an auxiliary input to play audio entertainment through the two-speaker sound system. You have a variety of different options to upgrade your entertainment. You can even opt for the SYNC® 3. This system features a 6.5-inch touchscreen display with navigation to help you find your destination with ease. This system is voice-activated, so you can use your voice to select your destination and plan your route. 
Detailed Configuration Breakdown
The 2017 Transit is a full-sized cargo van, which only comes in a single trim level, but there are multiple options packages available. It comes with standard wheelbase or long-wheelbase configurations, as well as having available low, medium and high-roof styles. You can also, if you opt for the long wheelbase, get an extended-length body option. Finally, depending on what configuration you choose, you can also increase the gross weight ratings by choosing the 150, 250 or 350 configuration rating.
Standard Equipment and Options Details
At the standard level, you get steel 16-inch wheels, hinged passenger-side door, rearview camera, tilt and telescope steering wheel, power accessories, air conditioning, remote locking, stereo system with two speakers and auxiliary jack, tie down loops, and cargo-area LED lighting. On high roof models, you get a sliding passenger door instead of a hinged one.
In terms of options, there are a wide range of available features that you can get either as standalone additions or as package options. These include exterior long-arm mirrors, various axle ratios, different window design choices, dual-sliding rear cargo doors, cruise control, power-retract running boards, rear parking sensors, automatic headlights and windshield wipers, leather upholstery, Lane Departure Warning, remote start, spray-in cargo liner, and rear AC.
In terms of technology, you can opt for an upgraded infotainment interface system including the Ford Telematics system, the Ford Sync voice controls with 4-inch display screen, Ford Sync infotainment system, GPS navigation, HD radio, satellite radio tuner, USB port, 6.5-inch touchscreen and more. You can also opt for a heavy-duty trailer package.
Safety
The Ford Transit van comes with stability and traction control as well as antilock brakes, and airbags at the front, side curtain, and side impact areas. They also come standard with a rearview camera. The new side wind stabilization standard system helps to ensure that the Transit tracks straight when experiencing wind gusts on the road. It has available rear parking sensors, as well as Lane Departure Warning protections, the later standard with the Sync® 3 infotainment system.
In terms of safety ratings, the Transit earned four out of five stars for frontal crash protection from the Insurance Institute for Highway Safety, meaning it's pretty exceptional at keeping you secure on the roads.
Cargo Space
Of course, one of the most important aspects of any van is cargo space, and the new Transit Van delivers in this area, as well. If you choose the extended length version, you'll get a 148-inch wheelbase which can hold up to 14 feet of pipe or lumber, and still shut the door. Even at the shortest 130-inch wheelbase, the back-cargo bay will handle up to 10 feet of materials while still being able to close the back door. You can also fit 4x8 sheets of plywood, and a 6-foot-5-inch worker can stand upright in the back.
The overall cargo volume in the back of the Transit is 246.7 cubic feet on the standard wheelbase version, all the way up to 487.3 cubic feet for a long-wheelbase and extended length configuration.
Learn More About the 2017 Ford Transit Van
In this article, you learned all about the Ford Transit Van. We gave you a glimpse of the engine power, options, and the different sizes for your passengers. We even showed you audio entertainment options that are available to help increase your driving convenience.
Learn more about the 2017 Ford Transit by scheduling a test drive with us at Wayne Ford-we're always happy to help drivers in the Wayne, Paterson, and Clifton area find the right vehicle.