Check Out the 2017 Ford F-150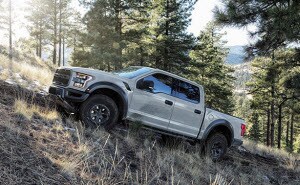 Whether you're in the market for a new pickup truck for work, or for play, you'll want to find one that can impress you at every turn. The Ford F-150 has always been a top name in the pickup truck category, given its long-standing tradition of wowing its drivers and providing them with the necessary abilities to get the job done. But how do you know this truck is the one you're looking for?
In this article, we're going to give you a closer look at the 2017 Ford F-150. We'll focus our attention on the engine performance and upgrades, towing and payload abilities, and the safety features. Reading this review will give you a better insight into this truck, and you'll be able to determine if it's the truck for you. 
Learn more about the Ford F-150 with our Vehicle Comparisons
2017 Ford F-150: Engine Performance and Upgrades
At its base level, the Ford F-150 can deliver 282 horsepower with 253 lb-ft of torque with its 3.5L V6 engine paired with the 6-speed automatic transmission. The optional 2.7L EcoBoost V6 engine can deliver up to 325 horsepower with 375 lb-ft of torque. The 3.5L EcoBoost V6 engine, equipped with a 10-speed automatic transmission, delivers the most torque with 470 lb-ft. It's also capable of reaching 375 horsepower. The 5.0L V8 engine option can reach 385 horsepower with 387 lb-ft of torque. 
Towing and Payload Abilities
Depending on your workload, you may want to upgrade the engine to be able to handle the heavy loads. The base level 3.5L V6 engine can tow up to 7,600 pounds and maxes out its payload capacity at 1,910 pounds. The 2.7L EcoBoost V6 engine offers 900 pounds more in towing and 300 pounds more in payload.
If your day-to-day entails dragging a great deal of weight, you may want to consider the 3.5L EcoBoost V6 engine. This engine option features the best-in-class towing with the ability to haul 12,200 pounds. If payload is more of your concern, the 5.0L V6 engine should do it with the highest payload capacity of 3,270 pounds. As for towing, this engine is effective with its ability to tow 11,100 pounds, but it doesn't compete with the 3.5L EcoBoost V6 engine.
Safety Features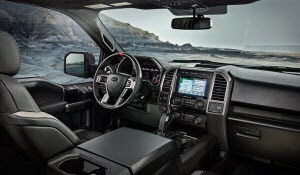 The 2017 Ford F-150 is loaded with a variety of active safety features that are designed to keep you in control at all times. The AdvanceTrac® with Roll Stability Control™ is a system that prevents you from losing traction. If it senses wheel slip, it'll provide brake pressure to the afflicted wheels while reducing engine speed to actively guide your vehicle back to its path. The Roll Stability Control™ will apply brake pressure to ensure all your wheels remain on the ground.
Another helpful active safety feature is the Curve Control. When you're approaching a curve at a high speed, this feature will reduce your engine speed and apply slight brake pressure. This is to help manage the curve without risking loss of control. 
Schedule Your Test Drive
By now, you're well aware of the awesome capabilities of the 2017 Ford F-150. You saw that with each engine upgrade, the more power it can deliver and the more weight it can tow or carry. If you're still undecided, why don't you take it out for a spin?
Schedule your test drive with us at Wayne Ford-the dealership that proudly serves drivers from the Wayne, Paterson, and Montclair areas.