The 2017 F-150 is one of the best pickup truck options on the market right now. For drivers in the Wayne, Paterson, Clifton, and Montclair areas, you'll love driving this reliable, powerful, and surprisingly agile vehicle. At Wayne Ford, we'll help you discover why the F-150 is ranked the #1 full-size pickup truck in the country, according to U.S. News & World Report.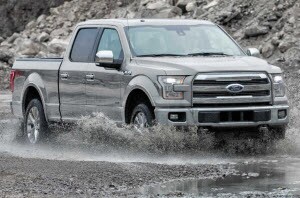 Even dependable vehicles experience issues or need tune-ups, which is why the 2017 Ford F-150 has a comprehensive system of dashboard signals and warnings. Below, you'll find a complete dashboard symbols guide so you can keep calm and be prepared for the next steps.
Dashboard Symbols: F-150 Indicator Lights
Indicator lights typically come on when you've activated a system. They're there to remind you to deactivate the system when needed. Here are indicator lights for the F-150.
Cruise Control: When cruise control is activated, this signal will light up on your dash. It should look like a speedometer with an arrow pointed at it.
Transmission Tow/Haul: When you turn on your vehicle, the Transmission Tow/Haul light will illuminate. It looks like a trailer with two wheels. If the light flashes, you should take your vehicle in for service.
High Beams: Upon activating your high beams, a light will appear on your dashboard to remind you that they're on. This will show up as a blue light made up of several horizontal lines on the left and an irregular circle shape on the right.
Door Ajar: If the engine is running and one of your doors is still open, you should see a light symbol that looks like a car with its doors open. This will remind you to fully close your doors before driving.
Dashboard Symbols: F-150 Warning Lights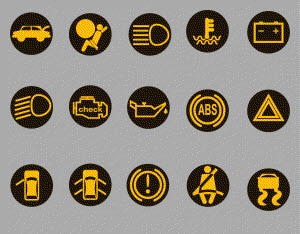 Warning lights are more serious than indicator lights and require immediate attention. An F-150's warning lights indicate that there's a problem with one of the vehicle's components, so you should pull over or seek service as soon as possible.
Low Tire Pressure: This light looks similar to a horseshoe with an exclamation point inside. It's there to indicate when one or more of your tires is low on air. You should pull over or bring it to a service station for assessment. It may just require a quick fix at an air pump, or it could be a more serious issue.
Anti-Lock Braking System (ABS): This will appear as a circle with ABS in the center and parentheses on either side. If the light appears, your brakes should function normally, but you should still bring your F-150 to your Ford dealer as soon as possible.
Engine Fluids: When your engine oil is low or there's a problem, a light that looks similar to an oil lamp will illuminate. When coolant temperatures become too high, a light with a thermometer above two horizontal squiggly lines will come on. If you see either light, pull over and stop your car.
Service Engine: A light that looks like an engine will come on when your engine is experiencing an issue. Bring your F-150 in for service at your Ford dealer right away.
Schedule Maintenance for Your 2017 Ford F-150
If you experience car troubles in the Clifton, Montclair, or Paterson areas, stop into Wayne Ford so one of our qualified team members can help get you back on the road safely. We'll identify the root of the problem so you can have peace of mind and make sure your vehicle is in optimal shape before driving it again.